Discover and buy from 150 of the best emerging and independent artists from across the world. The Other Art Fair Melbourne – delivered to you.
In April 2020, The Other Art Fair Online Studios launched with the ambition to continue to foster the growth of the artist and art-lovers community, in the absence of our live Fairs around the world. Since launching, the Studios have supported independent artists globally, connecting them with new customers, followers, and other fellow artists. 
To celebrate this milestone, and to welcome a new digital chapter for The Other Art Fair as we head into 2021, we're seeing out the year by showcasing some of our most popular artists. Spanning a huge array of disciplines, this talented bunch have been our 2020 best sellers. So, without further ado, here are our top artists (as shopped by you!) from each of our Online Studios…
Find art you love at a price you like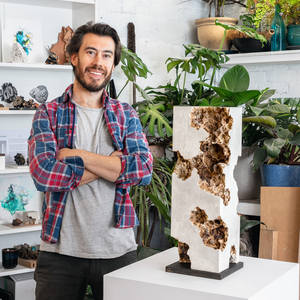 Oliver Ashworth-Martin seeks to re-awaken a fascination with the natural world. His collection, spanning both sculptural and two-dimensional work, focus on the native seed pods of Australia which symbolise nature's continuous renewal and growth. As you explore his collection Oliver aims to show you "the unfathomable complexity and depth of the natural world, while simultaneously pointing to the impermanence within it."
Get to know the art world's best emerging artists and what drives their process and inspiration.
New to Buying Art Online?
Read our essential guide for our top tips!
Share Melbourne Online Studios with Your Friends
Join the Melbourne Fair Community
Sign up and be the first to know all the latest Fair and artist news, Studio collections, exclusive special offers and more.