Dropping in early 2022, The Other Avatars is the first of its kind and a project that only Saatchi Art could make a reality: a series of handmade, originally-designed, and stylistically-varied avatars created by an international collective of hundreds of artists selected by our curators. 
For the project, each participating artist will create 10 to 20 unique avatars inspired by the self-portraits of renowned Dutch artist Vincent van Gogh. While today Van Gogh is considered one of the most influential figures in Western art history, during his lifetime he saw relatively little commercial success. His story is emblematic of so many artists and creative thinkers whose visionary approaches—while under appreciated in the moment—turn out to be ahead of their time. The NFT landscape occupies a similar position: while many think NFTs are a passing fad to be ignored, others—including the team at Saatchi Art—believe they will play a major role in the future of art.
Saatchi Art's entry into the NFT space is an evolution of our mission to support emerging artists and provide a space for people around the world to discover and buy high quality art they love. As the world's leading online art gallery, we are uniquely positioned to introduce both artists and collectors into the world of NFTs in an environment that is curated, transparent, and welcoming. 
With The Other Avatars drop, we're excited to begin our NFT journey with a project that reflects the incredible breadth, diversity, and talent of Saatchi Art's global community of artists. Moving forward, we're exploring opportunities for subsequent NFT collections including curated projects, one-off artist drops, and more. These projects are helping us to move towards realizing Saatchi Art's long-term vision of displaying and selling traditional art and NFTs side-by-side in an integrated marketplace. In the meantime, we're also going to be exploring how to bring additional utility to Saatchi Art token owners. Our hope is to create a vibrant community through our NFTs, and will be looking for ways to bring it to life in the coming months.
Avatars are images of a character, usually from the shoulders up, that feature an array of traits. For this project, there are 11 predefined traits that artists will use to create each of their Van Gogh-inspired avatars. Beyond being one-of-a-kind artworks by virtue of each artist's unique style and approach, every avatar will also have the name of the artist who created it as a trait. This means that even if two artists select the exact same set of traits for their avatar, the artworks will be different because of the artists' name trait. Rarity will be determined by the artists' own selections once all works are completed; the traits they chose the least will be the most rare.
This project is made possible by Saatchi Art's fantastic community of talented artists around the globe. The participating artists at a glance:
+$1.3 Million Collective Sales
on Saatchi Art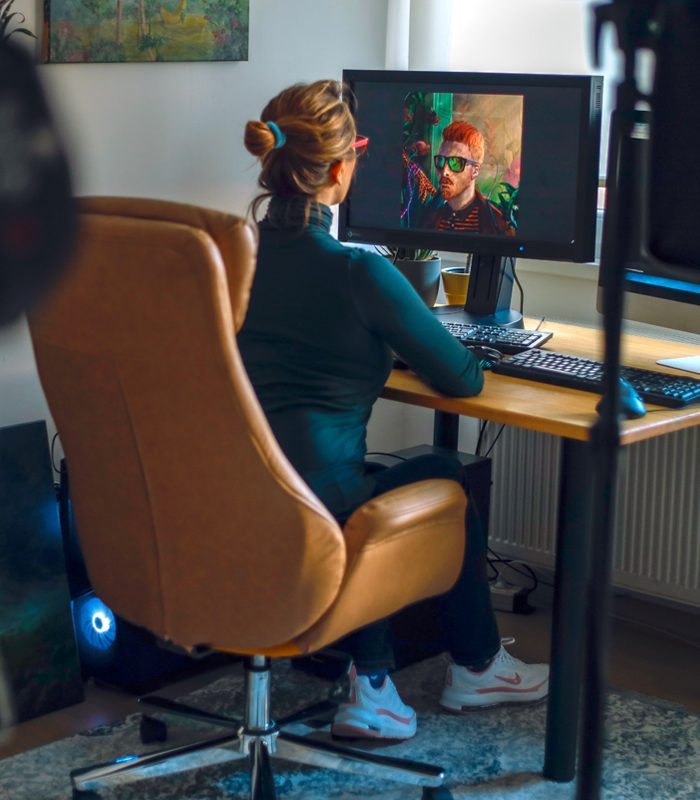 Monty Preston, Curator of The Other Art Avatars and Saatchi Art Manager of Art Advisory and Curation
As the creative director behind The Other Avatars, Monty is leading Saatchi Art's entry into the NFT space. In addition to curating the list of artists participating in The Other Avatars, she is guiding them through the creative process to help them create high quality, unique works of art for this one-of-a-kind drop.
Monty graduated summa cum laude with a B.A. in Linguistics and Spanish Culture Studies from the University of Toronto, Canada. Prior to joining Saatchi Art in 2018, she worked at female-led, industry disrupting startups including Beauty Pie in London, where she managed content and creative, and The RealReal in San Francisco, where she specialized in luxury estate management with a focus on designer apparel and fine art. As an artist and photographer, Monty has collaborated with renowned talents in the fine art and fashion industries, providing her with the unique insight into the creative process that she brings to her curatorial practice.