5 Easy Steps for Displaying Oversized Artwork According to an Art Advisor
Featuring an oversized artwork makes for a daring focal point in any room. Not only is it a chance to turn heads, but it immediately communicates the style, energy, and ethos of the space. However if not displayed correctly, a large work of art can dwarf the decor, overwhelm the senses, and ultimately make the space less functional.

When Saatchi Art's Chief Curator & VP of Art Advisory Rebecca Wilson began working with Design Art LLC to source art for the Vitri, a new luxury apartment complex in Scottsdale, Arizona, she knew that oversized art pieces could be a powerful way to bring an element of personality to the communal spaces that cater to the young, affluent residents.
Inspired by the Vitri project, here are Rebecca's 5 tips for anyone looking to make a statement with oversized artwork.
1. Keep the rest of the space minimal
If the overall design approach is maximalist, a large-scale artwork risks overwhelming the space. Bold, oversized works display best in an environment that is clean and considered. Design-Art LLC fashioned the interiors of the Vitri to be modern and elevated. Their balanced, light-filled design approach was perfectly suited for several show-stopping visual elements including large-scale artwork.
2. Embrace monochromatic, abstract, and graphic works
When looking for artwork at a large scale, consider works with simple compositions exploring color, line, and form. A bold, graphic drawing or an abstract painting in a cohesive palette will turn heads at a large scale. At the Vitri, Rebecca curated a selection of works including black-and-white drawings by Ronald Rupert Santos, as well as an all-over orange-hued abstract composition by Denmark-based artist Pers Anders to make a statement without causing the space to appear busy or overwhelming.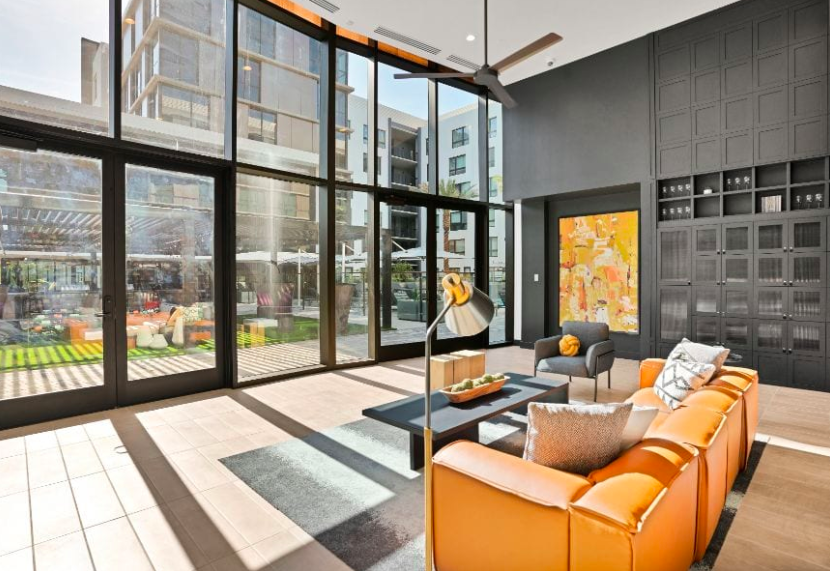 3. Look for sizable empty wall spaces
If you want to display oversized artwork in a space, be sure you provide plenty of room for the work to breathe. That may require reorganizing bookshelves and moving furniture, or creating accent walls or spaces in entryways. Aim to fill about two-thirds to three-fourths of your available wall space. When Rebeca was considering works by Ronald Rupert Santos for the Vitri's space, she realized she needed them to be much larger in order to fill the wall properly. She worked directly with the artist to license the imagery, negotiate all fees, and then produce reproductions to oversized specifications perfectly suited to the apartment complex's available wall space.
4. Consider a diptych or two related artworks
Sometimes one is better than two. If you have a large amount of wall space, a large-scale diptych—a work of art composed of two panels—or two related works can help to fill it in a way that is both harmonious and eye-catching. After seeing the significant ceiling height at the Vitri, Rebecca knew that it could accommodate a powerful vertically-hung artwork pairing. She recommended displaying the two enlarged drawings by Ronald there to make the most of the awe-inspiring wall height.
5. When it comes to install time, preparation is key!
Proper preparation is key to a seamless install. Before you begin, make sure you have the correct hardware and tools, and have measured the space and the work itself to plan for the precise placing. Because Saatchi Art had customized the artworks specially for the Vitri, installation was easy—the oversized artwork was delivered framed and ready-to-hang.
Discover our curators' favorite oversized artworks in their latest collection. Would you like to work directly with a professional art advisor on your next project? Please contact us —we'd love to hear from you!