Curating Art for ARIA Resort & Casino
Where do you start when tasked with the project of curating the art for a 4 million sq ft hotel like ARIA Resort & Casino, Las Vegas? Saatchi Art's art advisors were uniquely equipped for the large-scale project. Utilizing the gallery's extensive inventory of over 100,000 artists worldwide, our team of curators took on the task of curating 5,000 artworks for one of the most well-respected properties on the Strip.
Rising above the Las Vegas skyline, two curvilinear glass towers measuring 61 stories tall comprise the main structure of the ARIA hotel. At the base of the connected towers are a 150,000 sq ft casino and a three-story lobby incorporating natural materials such as foliage, wood, and stone. Owned by MGM Resorts International, ARIA holds 4,004 hotel rooms with floor-to-ceiling windows showing stunning views of the cityscape and is an AAA 5 Diamond and Forbes Five-Star hotel. At the time of its opening in 2009, ARIA was the 9th largest hotel in the world.
How Saatchi Art art advisors approach a project of this size and scope
Every project taken on by Saatchi Art's art advisors is approached with a fresh perspective and consideration of the client's brand and location. In taking on monumental projects such as ARIA Las Vegas, Saatchi Art's advisors are able to identify and source the work of emerging artists local to the client's region, as well as artists based in far-away destinations who are making artworks perfectly suited to the brand and property.
Combining Saatchi Art's ever-expanding selection of artists with the Hospitality Art Advisory team's commitment to fulfilling the ARIA group's vision, Saatchi Art's curators completed the delivery of over 5,000 framed art pieces to the landmark hotel. The extensive collection of framed works decorate the newly remodeled ARIA Sky Suites, renovated to allow for greater light-filled interiors and more dramatic views of the Las Vegas CityCenter.
Featured Artwork at the ARIA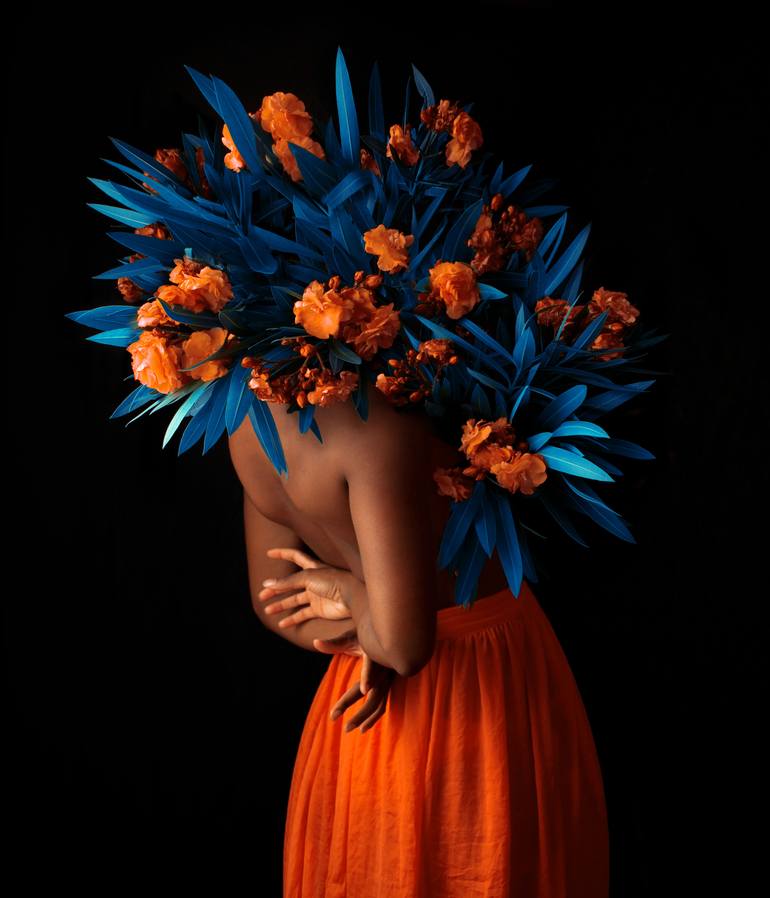 Among the artists chosen for ARIA's guestrooms, suites, and corridors, Saatchi Art curators selected some of the gallery's bestselling photographers such as Javiera Estrada, Fares Micue, Paslier Morgan, Nadia Attura, Simon McCheung, and Anthony Lamb.
Spanish photographer Fares Micue uses herself and her camera to compose complex narratives surrounding human emotions. Juxtaposing illumination with obscurity, interior scenes with wild landscapes and a bold selection of colors, Fares' portfolio is full of unexpected and refreshing twists.
Her work, "Positive Nostalgia," complements the natural features that regularly appear throughout the hotel and embraces the colors of the Nevada desert with deep sunset orange and cerulean blue.
 Another photograph of note in the collection is "Desert Road #1" by London-based photographer Anthony Lamb. Suggestive of the vast wilderness and uninhabited places right outside the city lines of Las Vegas, Anthony's photograph combines an appreciation of the natural environment with minimalist design. The composition of Anthony's photograph provides an inherent sense of serenity and calm through its depiction of open space and clear lines.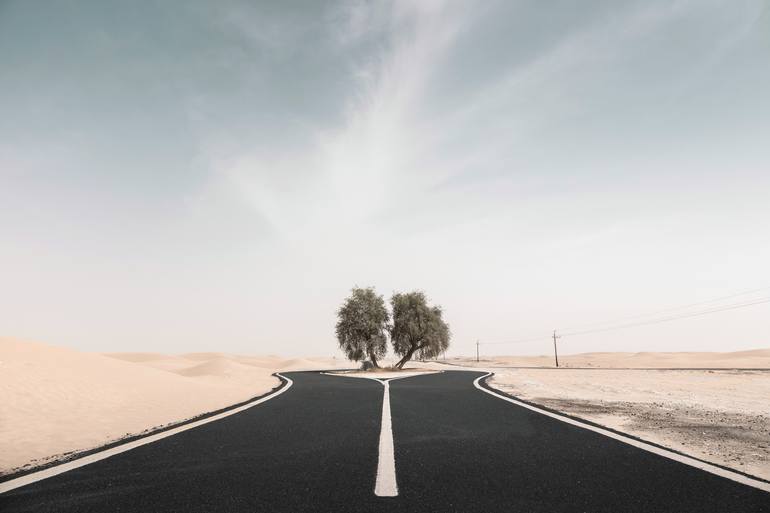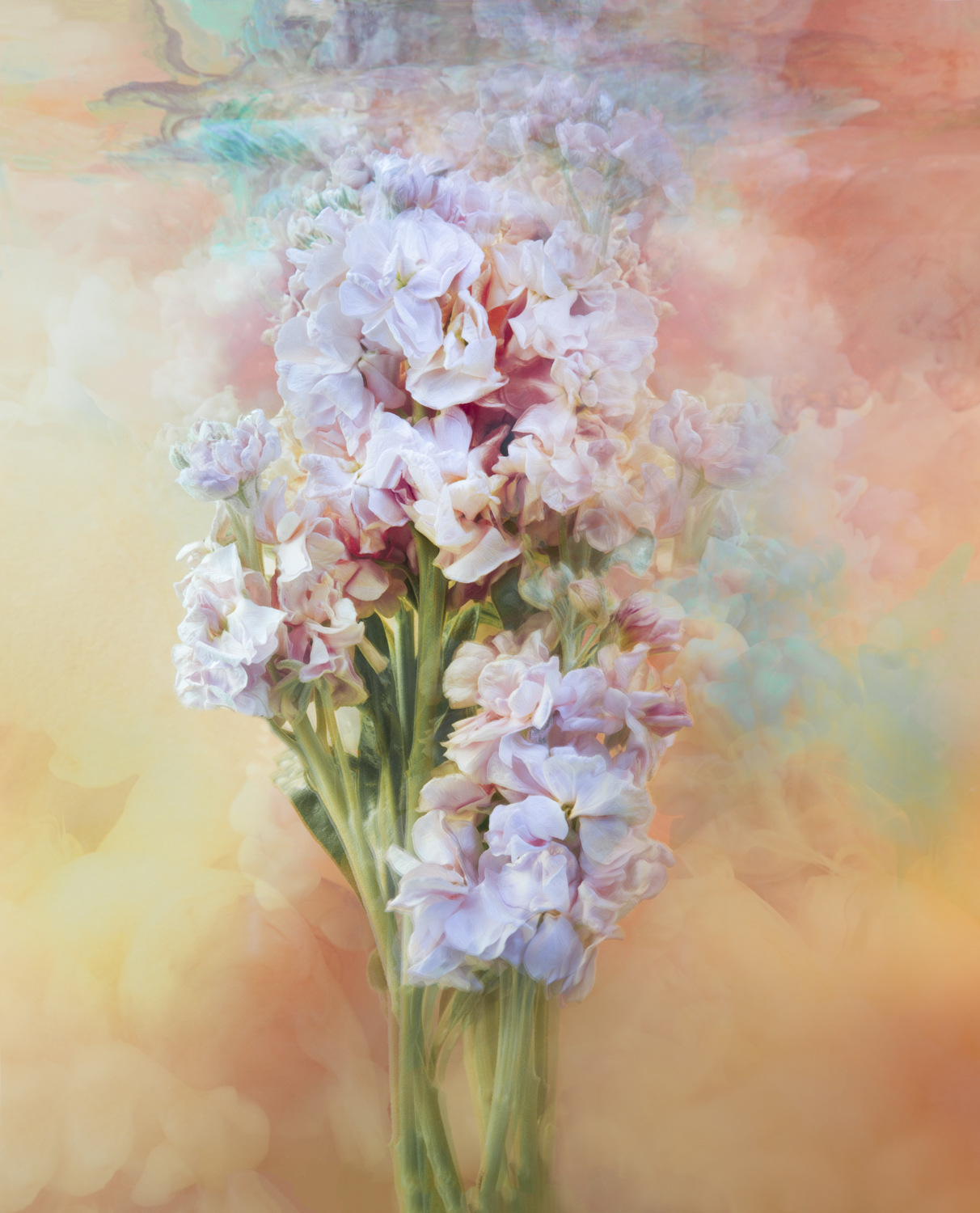 A photograph from Javiera Estrada's Nocturnal Visions series is also among the works selected for display at ARIA. A self-proclaimed seeker of the spiritual, Javiera approaches each of her photographs as a kind of self-portrait. Memories, the subconscious, and polarities between darkness and light inspire many of her works, ranging from traditional photographs to mixed media collages.
In a dynamic contrast to the straight-edged compositions of "Positive Nostalgia" and "Desert Road #1," Javiera's work provides the illusion of movement, while staying true to ARIA's overarching theme of nature's variability and immensity.
Other Artists Featured in ARIA's Fine Art Collection
Saatchi Art artists selected for ARIA's guestrooms and suites will be in excellent company, as the hotel's Fine Art Collection is one of the world's largest corporate collections in the United States. The ARIA Fine Art Collection features artworks by renowned painters, sculptors, and installation artists, including Sanford Biggers, Jenny Holzer, Rashid Johnson, Maya Lin, Claes Oldenburg, and Coosje van Bruggen, Nancy Rubins, Julian Schnabel, Frank Stella, among others.
Similar to the selection process for the works curated by Saatchi Art advisors for the ARIA hotel, artworks in the ARIA Fine Art Collection were selected for their aesthetic value and cultural importance. Guests of the ARIA hotel can interact with notable pieces throughout ARIA's public areas and shared spaces. From vibrant and complex installations to intimate and serene photographs like those of Fares Micue and Anthony Lamb, the artworks at the ARIA hotel further enliven the space and enhance guests' stay. 
Saatchi Art specializes in curating art for hospitality, luxury residential, commercial, and healthcare projects. Our team of curators is adept at sourcing contemporary art from emerging international and local artists and collaborating with artists on custom pieces for any project. If you'd like to learn more, please contact us at trade@saatchiart.com— we'd love to hear from you!